There's lots happening!
There's lots happening!
19 May 2017 (by KHamilton)
Y3 have been doing Smartie maths, been in an ambulance, visited a museum and made photo frames. Y4 are reading Beowulf to inspire their writing and acting skills.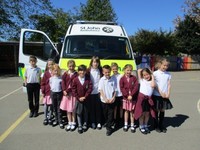 Y5 have been playing games to help them recognise fractions and writing Haiku poetry. Y6 made periscopes by applying their mathematical, scientific and design skills . See more details and lots of photos in the learning pages on the website.