Equality and Diversity, British Values and SMSC
Equality and diversity are critical. As schools, we should enable children and learners to thrive by protecting the vulnerable and ensuring the delivery of excellent standards of education, training and care. It is the idea of accepting and promoting people's differences. The goal is to raise awareness so that all individuals are treated equally and fairly. This interlinks with the British value of Tolerance and Respect. By raising awareness of all strands of diversity, how to eliminate discrimination, promote equality of opportunity and foster good relations, we are preparing our children and young people to become good global citizens and to appreciate and celebrate the diverse society in which we live.
British Values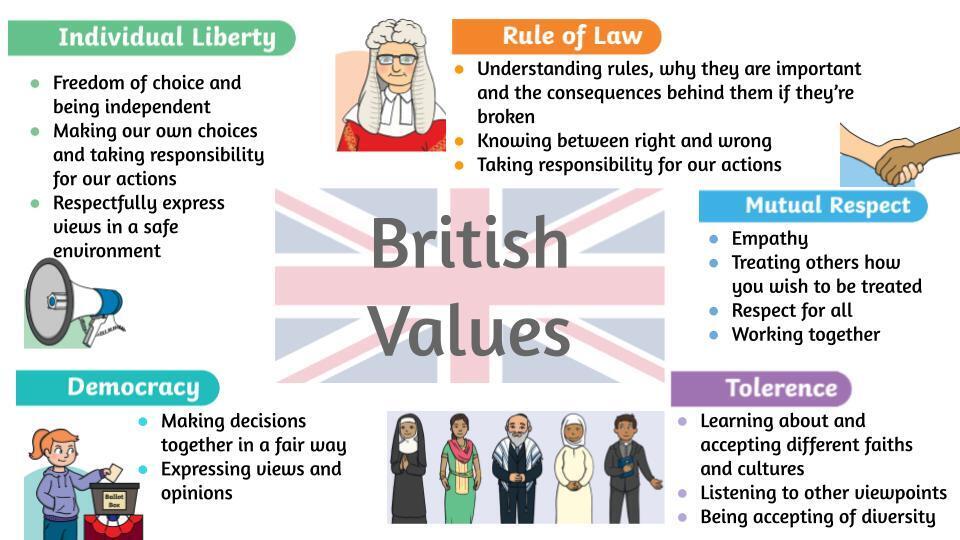 SMSC
SMSC stands for Spiritual, Moral, Social and Cultural education. SMSC takes a high priority at Driffield Junior School and is embedded into our broad curriculum as well as through extra-curricular activities, trips, and clubs and theme days. It is not a 'standalone' subject.
Please open the following documents to learn more:
The idea behind the five British Values is to ensure that young people leave school prepared for life in modern Britain. They need to become valuable and fully rounded members of society who treat others with respect and tolerance regardless of their background. It is our duty to actively promote this. This might mean to challenge behaviours or opinions which are contrary to British values. It is important that all children gain an understanding of the world they are growing up in, and learn how to live alongside, and show respect for a diverse range of people.