Mr Humbug sees the Light.
Mr Humbug sees the Light.
9 December 2016 (by KHamilton)
Christmas Play.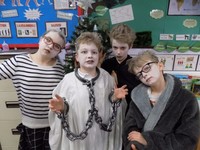 We are very proud of all the children who took part in the school play. The cast, chorus, stage hands, lighting, and scenery designers all came together to create a wonderful production. It has been a busy week with performances to parents, the infant schools and the rest of the school. More photos in the gallery.