Next Week
Next Week
28 February 2020 (by KHamilton)
Reminders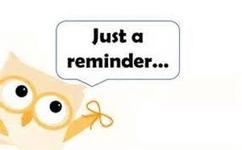 Another busy week ahead. It's Science Week and on Wednesday 4th (3.45 to 4.45pm), DJS science ambassadors are holding a Science Festival afterschool for children and adults, to which you are invited. There will be about 20 different experiments that you can take part in. Complimentary tea and coffee will be available too!
On Thursday 5th, as part of George's Marvellous Medicine Festival and World book Day, we are asking children to come to school dressed as a scientist. Remember, not all scientists wear white coats, so think outside the box. Astronauts, explorers, doctors and engineers are scientists too!
Also on Thursday when it's World Book Day, children will be receiving their token, worth £1. W H Smith will be bringing a selection of books specially published for World Book Day that can be purchased with the voucher. Children will have the opportunity to choose a book from their selection. If children want to put their voucher towards another book, they can do so if they wish.
Then to end the week it's Fair Trade Friday, when fair trade chocolate will be on sale at break for £1.
In addition, remember Bikeability Training begins on Monday for Year 5 children.