Football
Football
31 January 2020 (by KHamilton)
Spirited Performance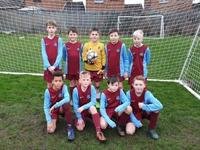 On Thursday, our school football team played Spring Cottage PS in the second round of the Humberside Schools U11 Knock-Out Cup.
Spring Cottage scored twice early on, against the run of play. Constant bombardment of the Spring Cottage goal, for the majority of the first half, should have resulted in several goals, but the ball just didn't find the back of the net.
The second half followed similar lines, with Driffield spending the majority of the time in the Spring Cottage half. With desperation setting in, defender (Josh Walker) scored a fantastic header from a well delivered corner, and then followed it up with a last minute equaliser to take the game into penalties.
Unfortunately, luck ran out with Spring Cottage finishing 4-2 winners on penalties and progressed to the next round.
Many thanks to all the boys who put up a spirited performance and much appreciation to the parents for their support.