Christmas Tree
Christmas Tree
5 December 2019 (by KHamilton)
Thank you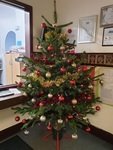 A big thank you to Mole Country Stores, who have donated a stunning Christmas Tree for our main entrance.
It's beginning to feel a lot like Christmas around school!!
Don't forget to get your tickets for the Christmas Play. Next Wednesday and Thursday - it's free and the children really value your support.