Well done to our Netball Team
Well done to our Netball Team
22 May 2019 (by KHamilton)
Last night, Driffield Junior School completed their final league game in the East Riding of Yorkshire Primary Schools High Five Netball League.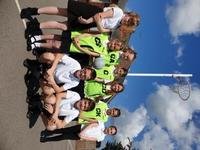 After losing their first game 7-5 to Hutton Cranswick Primary School, the team remained unbeaten in the remainder of their games during their league campaign.
Victories over Walkington PS (17-0 and 20-0), Keldmarsh PS (13-1 and 14-1), Molescroft PS (11-0 and 17-0) and Hutton Cranswick PS (8-5) means Driffield finished top of their group (still awaiting confirmation of Hutton Cranswick's results and goal difference).
It has been a fantastic achievement so far with everyone contributing to the success of the team.
Many thanks to all the parents who have helped transport the children to fixtures and given their support at games.
Hopefully, Driffield progress to the East Riding of Yorkshire Finals at Beverley Longcroft School on Friday 28th June.