Y3 Go Back to the Stone Age
Y3 Go Back to the Stone Age
10 May 2019 (by KHamilton)
See what Y3 are enjoying on their trips back to the Stone Age.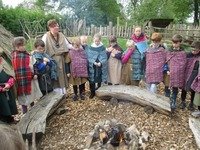 We had to roar at our enemies and we had our own special mark on our foreheads. All of the tribe had jobs to do like making pots, grinding bread and going hunting.
Bird was our leader and she told us all about life in the Stone Age. Some of us got to help her and we all got to dress up.
We had an amazing time going back to 5000 BC!
(Lots more photos in the gallery)