Football Success
Football Success
26 October 2018 (by KHamilton)
After winning the Driffield Cluster Tournament two weeks ago, Driffield Junior School headed to South Hunsley School to take part in the East Riding Schools U11 Football Final on a cold, autumnal evening.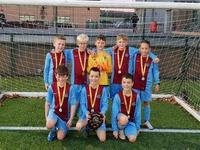 Eleven schools qualified and were drawn into three groups.
Driffield progressed into the semi finals as a result of being the best runner up in any of the groups and played a buoyant Swinemoor PS from Beverley. The game was very close but Driffield managed to score mid way through the game then withstand constant pressure to again emerge winners by 1-0.
In a tense final game a superb goal resulted in a 1-0 victory and Driffield Junior School being crowned East Riding Schools U11 Football Champions.
Driffield now progress to the Humber Final where they will play the four best Hull, Lincolnshire and East Riding teams, again at South Hunsley School, on Wednesday 21st November. Thermals at the ready!