Year 6
We have been finding out about deforestation: why it happens and why many people believe it shouldn't happen. We have also been learning to spot the difference between fact and opinion.
Year 6 have been developing their DT skills in preparation for making their animal shelters. We have been learning how to use a hacksaw safely and practicing our measuring skills. Watch this space for our animal shelters.
Year 6 have conducted a series of highly scientific investigations into the properties of materials. We are in the process of designing and making our own animal shelters and in order to find out which materials are best to use we have planned our own fair tests to find out how durable and waterproof different materials are.
Mrs Laird set 6H a maths challenge! They worked really well together to try and win the prize.
Science Adaptation
Year 6 have been investigating how the environment can effect how an animal adapts. Today we were investigating if the food available in the environment effects the type of beak a bird might have.
Reading
Year 6 reading was a mystery this week. We 'read' a picture story and had to use lots of our reading skills to try to predict the story. We really enjoyed it and it had a great twist at the end. We couldn't wait to read the real thing.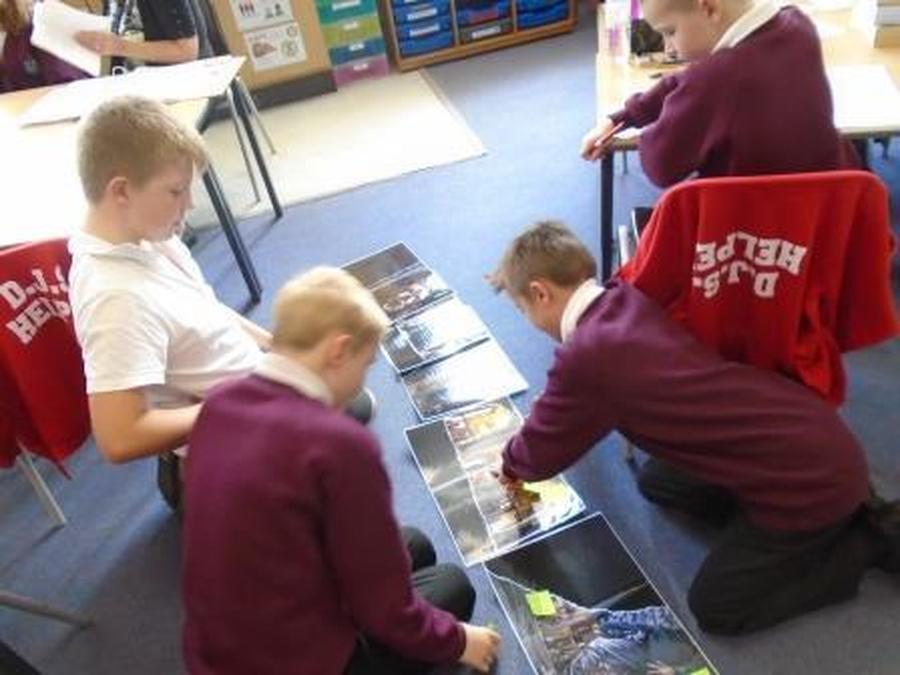 Measuring
We have been practising multiplying and dividing by 10, 100 and 100 in our measure topic this week. We have been converting mm, cm, m and Km. We've also been practising our real life measuring skills
Zoolab.
Zoolab brought some amazing animals for us to look at and handle.
Kites
Children in year 6 have been copying Danny from Danny, Champion of the World. Class 6A wrote instructions on how to make a kite, then made a kite, then wrote diary entries about making the kite. Mr Addy is very proud of his class.
Maths
Year 6 started the year learning about really big numbers – now we are learning about really small numbers. We have been having fun making tenths and hundredths and comparing our numbers – we didn't try making thousandths as there were too small!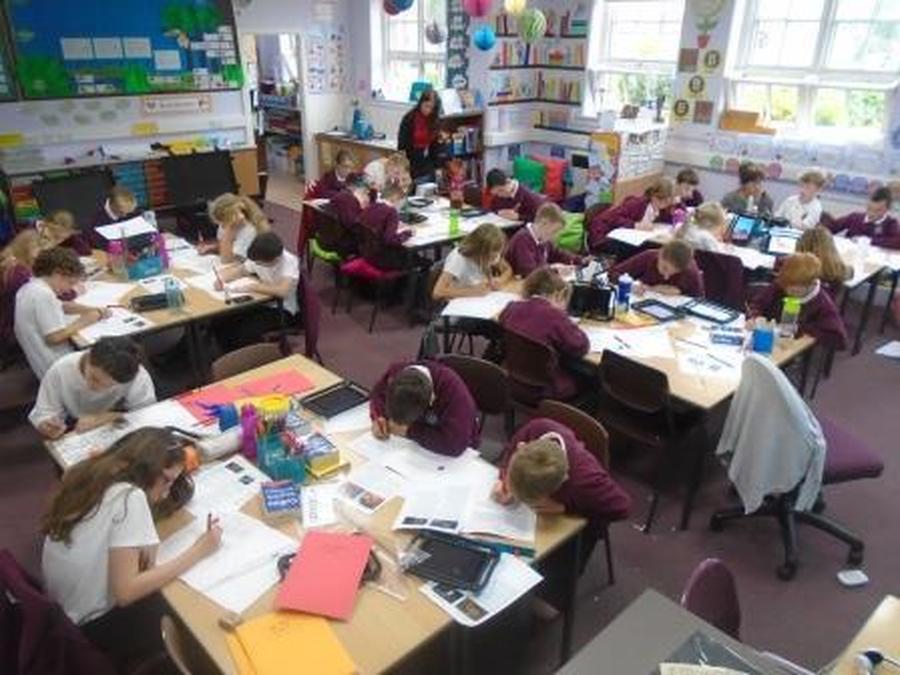 This afternoon 6FR have been learning about adaptation. The children used their knowledge to research how Rainforest animals have adapted to suit their environment. Everyone worked really hard. Well done and produced some excellent work!
6FR Measuring Windspeed
This week class 6FR has been busy looking at Biomes and weather. They were given the task of building an anemometer to measure wind speed with very limited materials and instructions. They worked in small groups to produce their devices then went out onto the field to put them to the test. It was a very thought provoking task but the children stepped up to the challenge, exhibiting great teamwork skills, to got some great results.
Art
We have continued our work on climate this week finding out about the worlds different biomes. We have created a piece of art to represent a biome. We have made models, pictures and collages and used lots of different media in our creations. It's been lots of fun and we have some wonderful creations.
Weather Stations
Year 6 have had a super start to the year. We have practised our measuring and used our problem solving skills to create our own weather stations. We had to use team work and show a lot of resilience to solve our problems.
Food and Farming
Year 6 had a great day at Driffield Agricultural Society's Food and farming day. We learned so much about our food and where it comes from. It has helped us to appreciate all the hard work that goes into getting food into our shops and homes.
Writing
In 6FS we have started our topic which is all about the Romans. As part of the topic we have written about a visit to Colosseum in the year A.D 80. The children produced some extremely imaginative pieces. Here is an example for your enjoyment. .
Maths
In 6FS we worked extremely hard to investigate the different possibilities for making nets of cubes. Here are some examples of our work.
Science
In science we have been learning about how light travels. We looked at the angle of incidence and the angle of reflection. After we made periscopes to test out this theory. We managed to see parts of the school we don't usually get to see!
Periscopes
Mr Addy is UTTERLY blown away with what the children have designed and created this week. They have made their own periscope designs from scratch and built them using their knowledge of light and nets of 3D shapes. WOW! They have shown incredible maths, science, DT and art skills this week.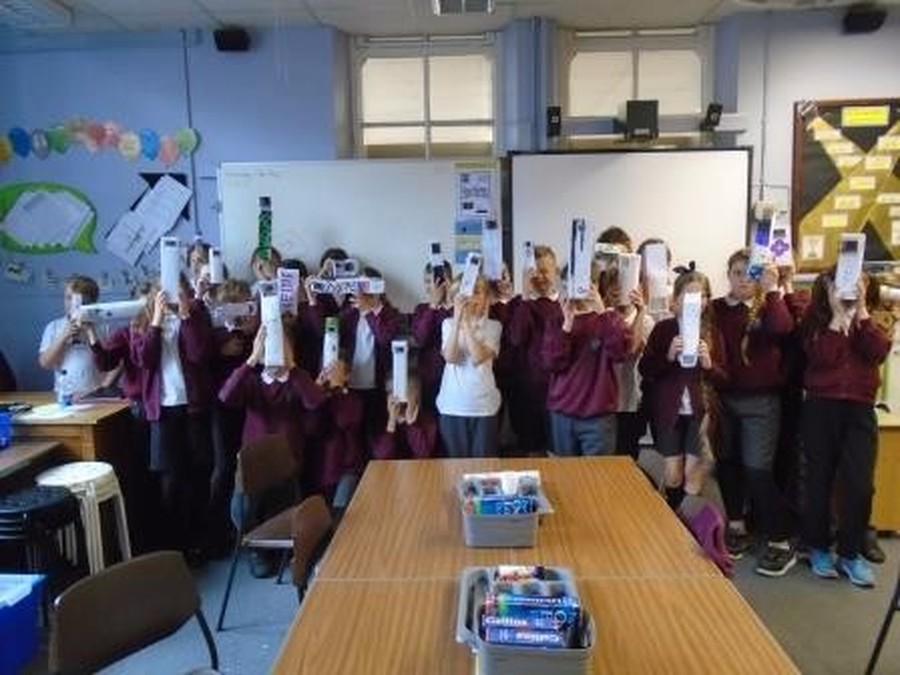 Periscopes
We've been applying our mathematical, scientific and design knowledge to create a device that will help us see around solid objects. We have used our knowledge of how light travels and our mathematical skills to help solve this problem. We have made, tested and adapted prototypes before creating a working device. Well done 6M, you showed great resilience.
Treasure Hunt
6E have sprung straight back into action with a Roman Numeral revision treasure hunt this morning. They've shown what true stars they really are!
Reading
As the sun was shining this afternoon 6FS decided to take advantage and head to the garden. We started to read our new class novel Wonder written by R J Palacio. We are already hooked!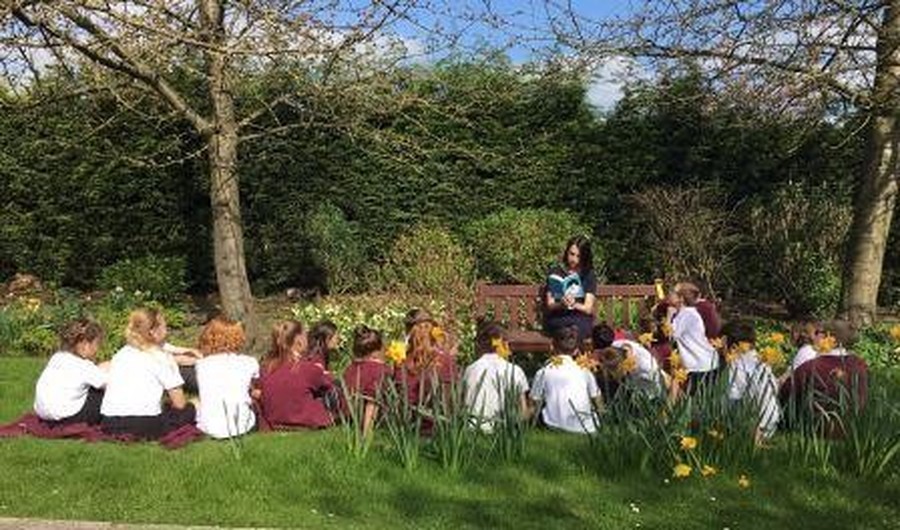 Timetables
6E have developed both their reasoning and life skills this morning in maths. They have read and interpreted timetables for different modes of transport and are looking forward to using them on their journeys when they are older.
First pictures from Dobroyd
All kitted out and ready for action.
Great Exhibition
Year 6 took part in a truly 'Great' Exhibition on Wednesday. Inspired by the original Great Exhibition in Victorian times children created their own wonderful inventions which they shared with other children and parents. It was great to see so many wonderful and creative ideas and hear children explain their ideas. Our exhibition, like the Victorian one, was well attended with over 300 parents and children voting on their favourite inventions. Among the favourites were Charlie Hall and Brooke Wedgner with their House 'Hauz' extender, Alfie Skelton and his Butterstick, Alice Bolton and her amazing Fortune Teller and Ruby Briggs and her Five a Day. Well done year 6 you have a lot to be proud of.
Reasoning
6M were busy using their reasoning skills when Mrs Laird popped in on Tuesday (7th March)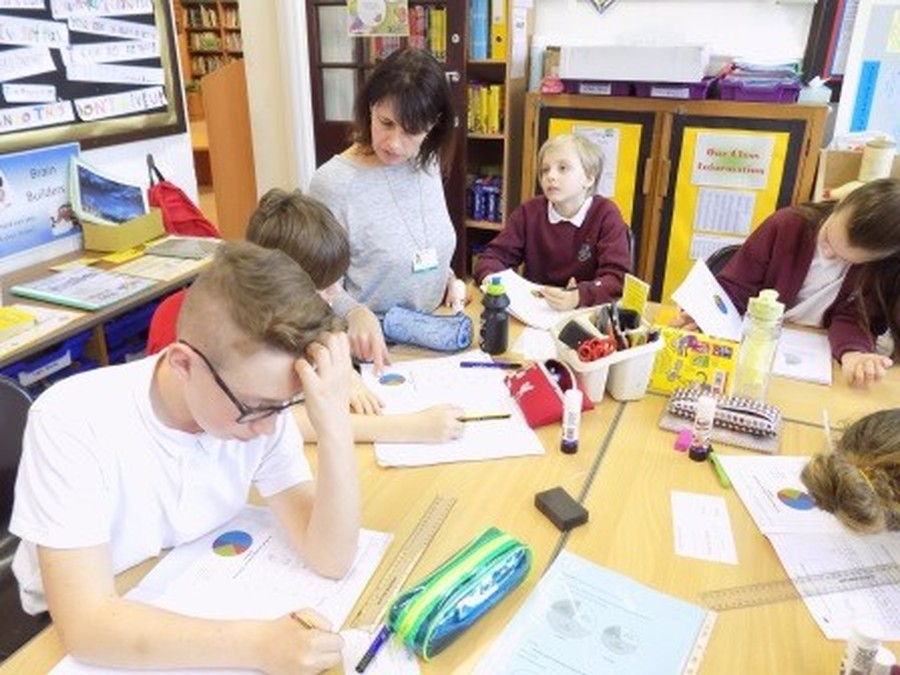 Grammar
Year 6 have become surgical experts, operating on words and revising their grammar.
Cricket Coaching
6E have been lucky enough to have six weeks of cricket coaching with Yorkshire Cricket Coach James Martin. They had their first session today and everyone thoroughly enjoyed it. We definitely have some budding cricketers – watch out Joe Root!!
Measuring Angles
Measuring angles with a protractor can be a really tricky skill. The children in 6FS got to work today to practise the skills involved in just this. They did a fantastic job and made some very accurate measurements
Contraction Apostrophes
The children in 6FS have been carrying out very important surgery this morning. The children have been learning about contraction apostrophes. It took all of the children's concentration and skill but the results were amazing! Take a look!
Problem Solving
The children in 6FS enjoyed putting their understanding to the test when solving problems involving volume. It wasn't easy as the children had to find the problems which were hidden around the classroom first!
Conjunctions
In Year 6 the children have been busy hunting for conjunctions. The children had to work together to firstly find the conjunctions, and secondly select appropriate conjunctions to complete sentences. Fun was had by all!
New Library Furniture
Year 6 are still enjoying Pokemon Club and making the most of the new furniture in the library – the perfect place for swaps. It's lovely to see our children sharing and negotiating so well with each other while having a lot of fun at lunchtime. Well done year 6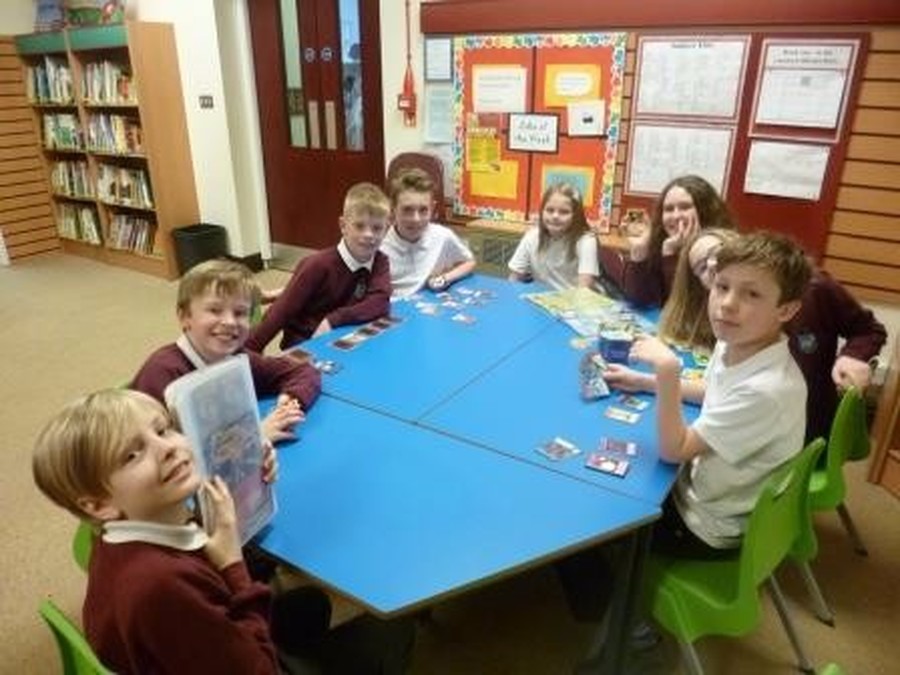 Art Days
6M have had a great couple of days exploring the work of William Morris. We have refined our sketching skills and learned how we can use maths to create symmetrical designs that we can use in printing. We definitely have some budding interior designers! Your independence and resilience has led to a really positive atmosphere while we working 6M. I am really proud of you.
Victorian Experience Day
Year 6 were transported back in time, 150 years ago, to the Victorian Era. The day started by lining up outside in silence (with many approving comments from parents) and then continued as it would have done for Victorian children. Children had to learn to write on slate boards and with a quill and ink and took part in maths, reading and PE lessons. The more unruly children experienced the punishments that would have been dealt out including wearing the Dunce's cap, having to wear a back straightener and even a finger lock. Although the teacher's did have canes no children were harmed in the production of this day (despite repeated pleas from some children who claimed they wanted to be whipped?!) The year 6 children (and staff) really looked the part so thank you to everyone at home who helped the children prepare for the day.
The great fraction race.
6M revised their fraction skills and worked together in a team when they took part in a competition to solve as many fraction problems as they could. The more challenging the problems the points they scored. Everyone had to take it in turn to solve a problem but could ask their team mates for advice. Well done 6M you showed you really know your stuff when it comes to fractions.
Exciting sentences
Some of the Year 6 children worked with Mrs Foxton to unpick the English language. The children enjoyed using their favourite books to locate nouns, verbs, adverbs and adjectives. The teamwork skills the children demonstrated were fantastic. Well done!
Genius Gymnastics
In 6FS the children have been exploring how to set up the equipment safely. All of the children were amazing and had some very good ideas about how to set up the apparatus interestingly. Here are a few pictures of the children exploring!
DT testing
6M had a great afternoon designing their own fair tests to investigate properties of different materials. This research is part of the design process the children are undertaking before eventually making their own animal shelters. They wanted to find the strongest, most waterproof and durable materials for their shelters.
Read & Stay
Y6 loved welcoming their parents to our Read and Stay afternoon on Monday. They enjoyed sharing some special reading time together!
Performance Poetry
Performance poetry has been a highlight for 6E this half term. They have worked in small groups to learn and perform their poems to the class. Each group's performance was evaluated and marked for their efforts against the success criteria. Miss Elliott and Mrs Brewster were blown away by their talent – well done to all of you!
6E have enjoyed experimenting with materials this afternoon. They were using controlled tests to determine how durable, water resistant and strong each material was. From this they will be designing their own animal shelters… Watch this space!
Anti-bullying WOW Homework
Samira in 6E has really added the WOW factor to her anti-bullying WOW homework this week! She has created a puppet show with numerous wooden spoon puppets and other props. Her performance to the class was also brilliantly rehearsed and very informative. Well done Samira.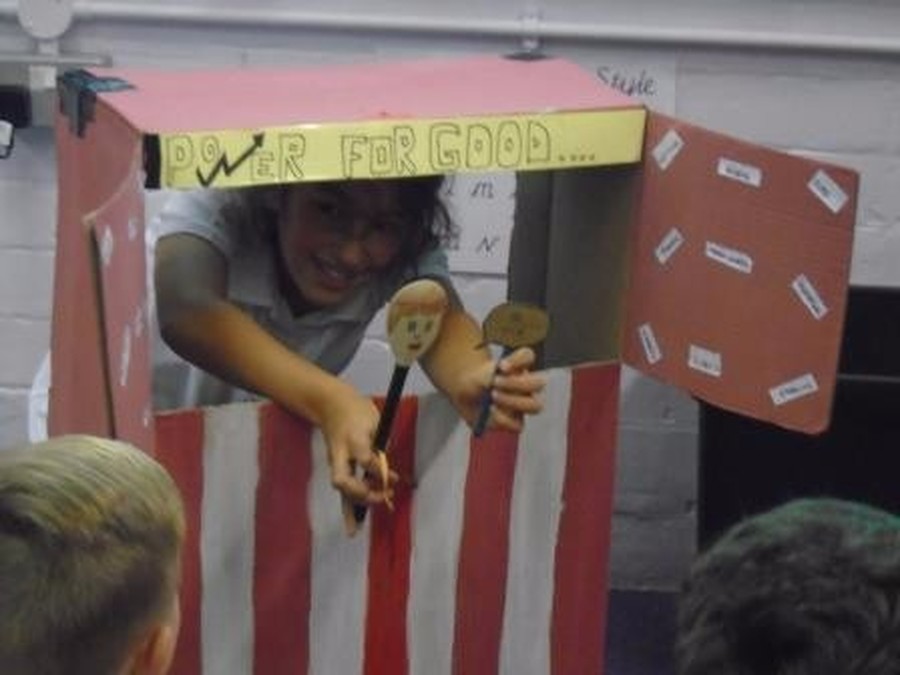 Visiting Poet
We were lucky enough to be visited by poet Annaliese Emman- Dean this week. Although she performed her poems for the whole school, she then spent the day helping year 6 create some fantastic poems.
"Annaliese was great. She was so happy and energetic. Before she came in I didn't like poems but now I love writing them. It was awesome." Thomas Hartley 6M
" I liked that Annaliese made all animals sound so interesting. It was very inspirational." Tyler Warren 6M
Zoolab
Year 6 had an unusual day when we were visited by Zoolab. We got to meet lots of interesting creatures from the rainforest and could hold them if we wanted to. We learned how they have adapted to their environment and how there are lots of different groups of animals. Although all the creatures were amazing, the favourite was the Citrus Bearded Dragon who we watched scamper over tables as it caught its prey.
Farey sequences
Today we learned about Farey sequences. We tried a method first but it wasn't correct, after a few attempts we successfully completed the sequences where we had to order fractions and check for equivalent fractions. Mrs Mudd was really proud of us for showing persistence and perseverance.
Children in 6A LOVED getting lost in the brand new David Walliams book today. They even chose to stay in at break time to get their teeth into the new story. Mrs Chesterfield very kindly bought the children the book out of her own money.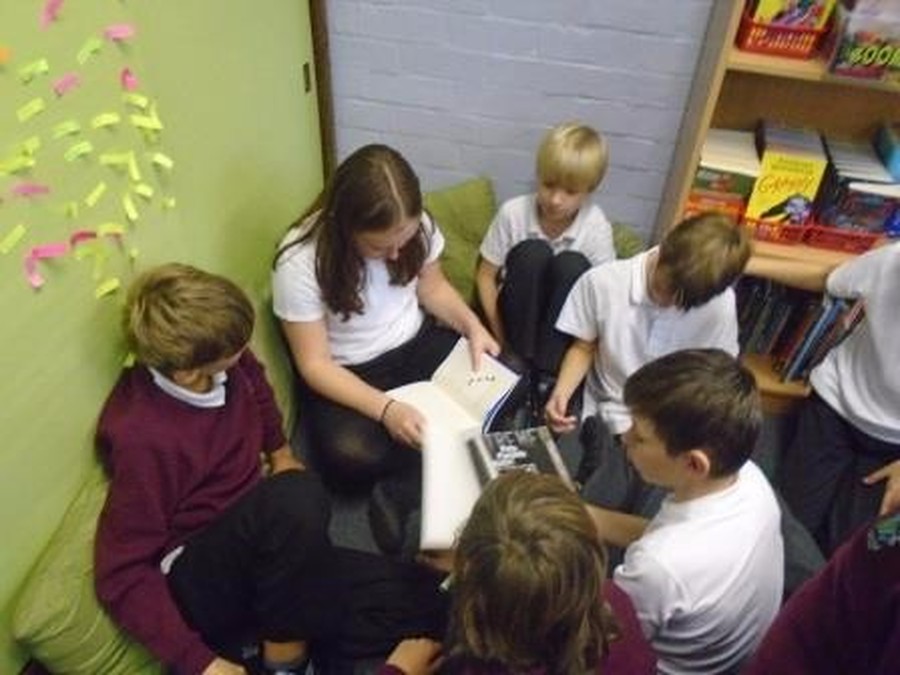 6M have been practising calculating percentages in very different ways!. Don't worry the tables did get cleaned!
6FS used a variety of interesting techniques to help them to learn and remember the prime numbers. The children loved getting creative!
Dance
Miss Niblett from First Steps put 6FS through their paces and challenged them to create a 32 beat dance routine to represent the rainforest layers. The children explored motifs, dynamics and cannons. Ask the children about these technical terms!
Reading Corner
6F managed to grab some quality time in the new and improved reading area. We think you'll agree that it's very inviting!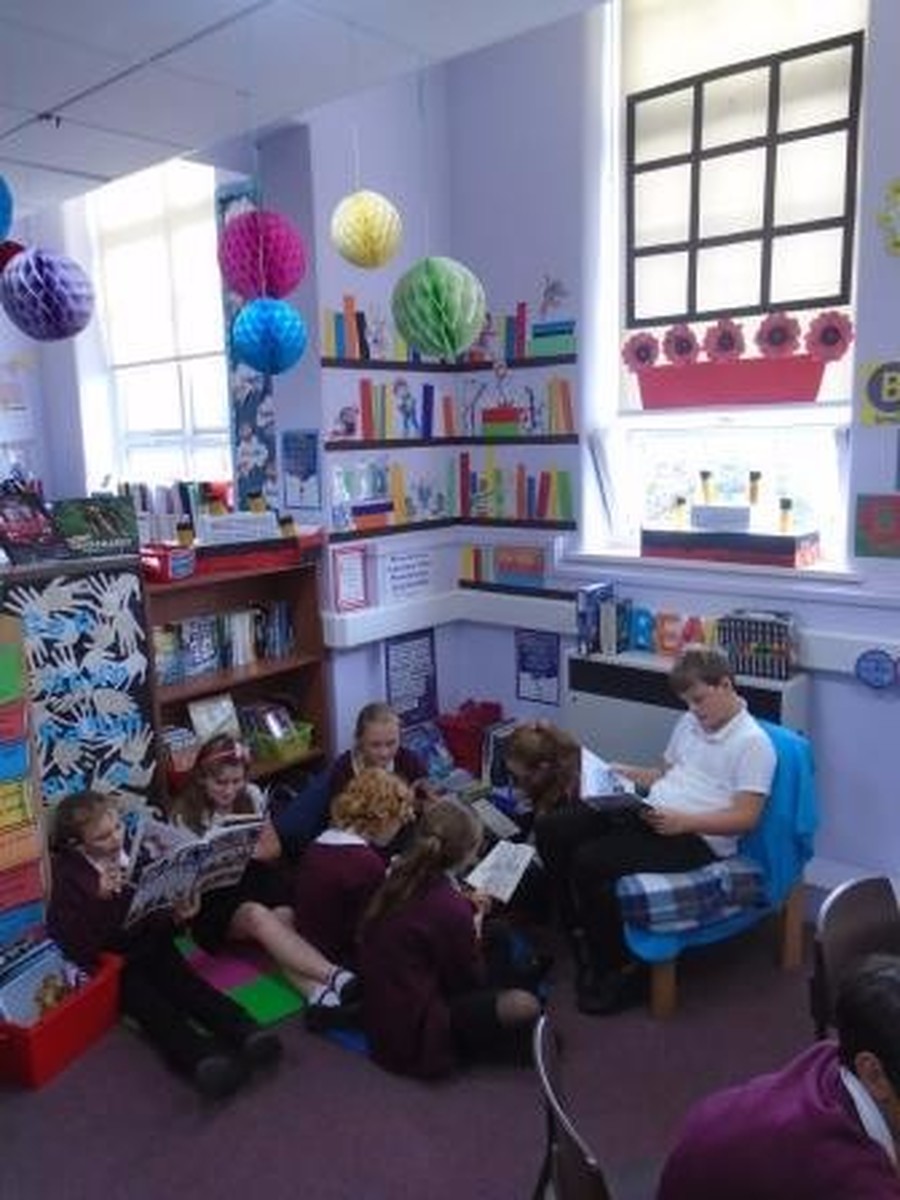 Driffield Library Visit
6M were the first of our classes to visit the library. We had a lovely afternoon. Everyone became a member if they weren't already and we all took a book back to school. We chose some brilliant books and learned lots of interesting facts about the library.
Spellings
6E are enjoying working with their partners to learn their new spellings. This week we have been looking at different suffixes and what happens to the root words when a suffix is added. Here they are dictating sentences which include words from their spelling list.
Maths
6E have been learning how to read, write, order and compare numbers beyond 10,000,000!
Gymnastics
6E enjoyed a fun gymnastics session with the apparatus out - they can't wait to show off their skills again!
Hull University
Children in 6A enjoyed their trip to Hull University on Thursday. Here they are, on the 7th floor of the library (which houses over 1 million books).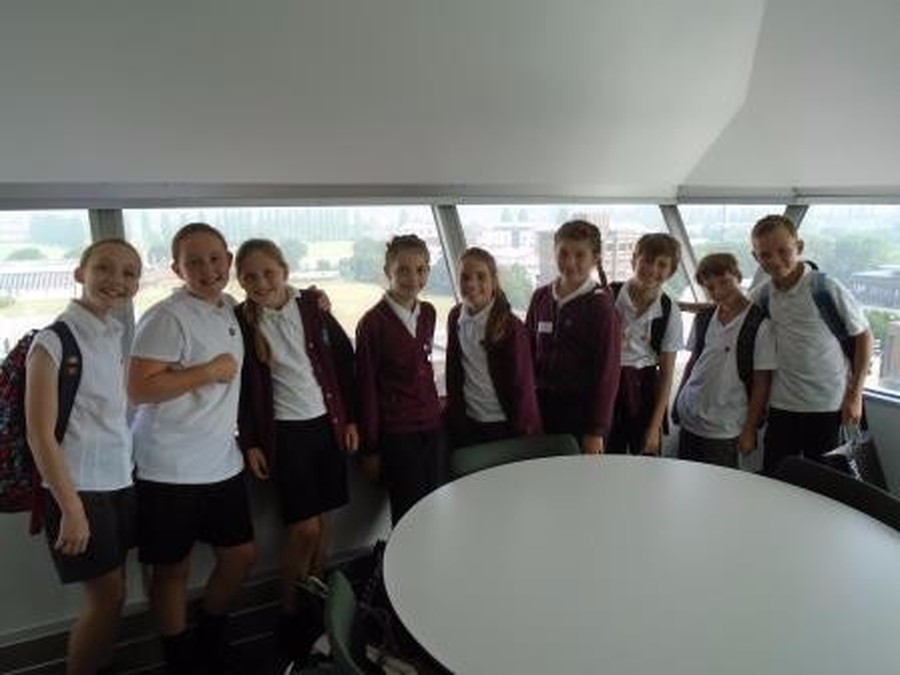 A Challenge for 6A
Children in 6A were tasked with the challenge to cut a hole in a piece of paper big enough to walk through.

They had to use strategy and mathematical reasoning as well as perseverance.
New Planners
The children in 6FS have enjoyed using their planners to let Mrs Foxton know how they felt about their learning during today's maths lesson – reading and writing numbers up to ten million.
Hull University Visit
The children in 6FS had an amazing and inspiring time at Hull University this week. The student ambassadors did a fantastic job of providing the children with: a tour of the campus; allowing them the opportunity to take part in some sessions led by lecturers and a question and answer session to learn about what it is like to be a student.