Geography
We are looking at how Driffield has changed. We had the same area mapped in 1890, 1950 and 2016
A sweet way to investigate place value
Year 5 were given bags of mixed sweets in maths this week. Unfortunately not to eat. Each sweet had a different value and the challenge was to work out the value contained within each bag. Who knew jelly babies were worth so much?
Volcanos
We have used place value grids when looking at the height of volcanoes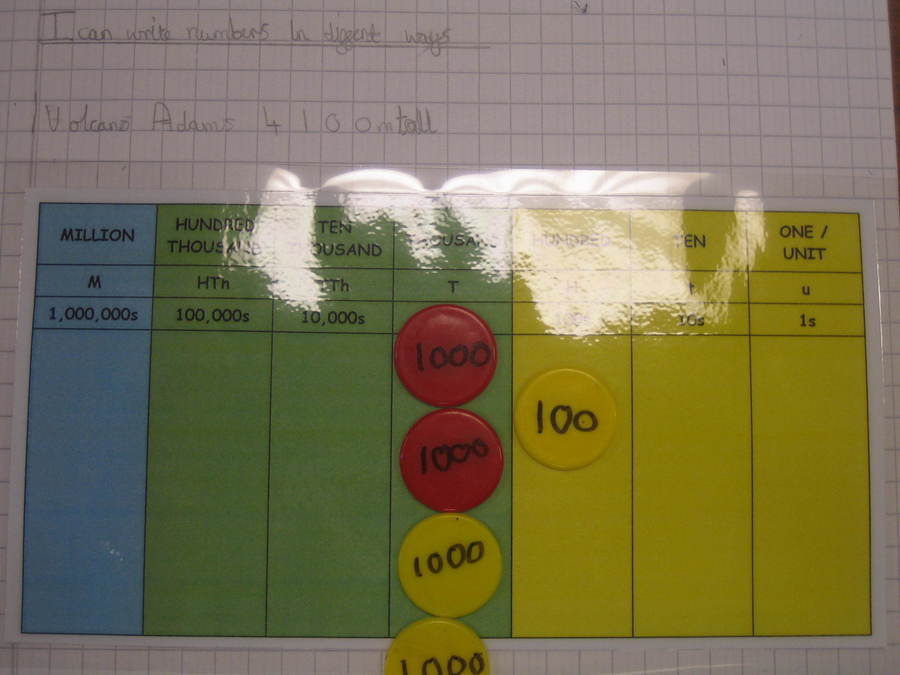 This week, 5N have got straight back to work after the holidays and have been learning all about how the structure of the Earth and how volcanoes and earthquakes occur. It has been very informative and messy as you will see from the photos!
Geography
5B continue to learn about the structure of the Earth as they put together a tectonic plate jigsaw on top of a squidgy layer of cold custard (the Earth's mantle)
Geography
5B have used satsumas to represent the Earth. On it, they drew the seven continents and the equator. After this they peeled the satsuma, created seven tectonic plates and tried very hard to put them back in place using toothpicks. We only have pictures to prove it as we ate the evidence!
Chicks
Look how much our chicks grew in 10 days. Our favourite, Stripe, had a mass of 39g at her first weigh in. On day 10 , just before she left us to move to her new home, she had a mass of an unbelievable 81g.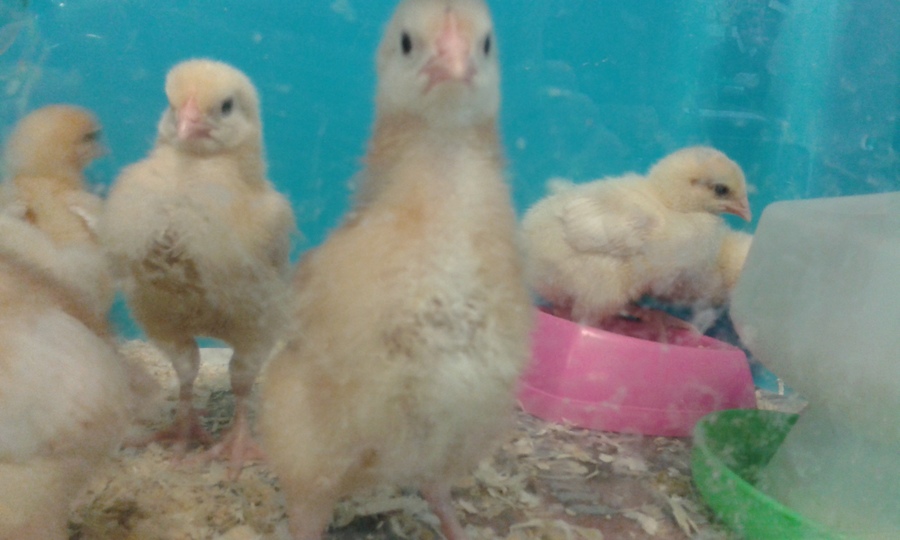 Y5 Sports Day.
The sun shone and so did our sporting stars. We enjoyed a wonderful day on the sports field – field events in the morning and track events in the afternoon all interspersed with lots of water and shade. Thank you to all children for showing amazing sportsmanship and to all parents who came along to cheer.
Chicks
At 7.00am this morning, the first chick started pipping. By 7.45am our first chick hatched (it's a boy). Lots of scientific observations taking place by the year 5 children. A huge lot of cooing by all the other people in the school (adults are cooing the most) who come to visit.
Dalby Visit
5B had a wonderfully busy day at Dalby forest on Monday. We spent the morning working in the water – measuring the flow rate, the depth of the river and discovering what creatures lay beneath. The afternoon was spent map reading in order to find our way through the forest trails in the woodland. The sun shone, the water flowed over the tops of our wellies and a wonderful day was enjoyed by all.
Learning through games
5B are busy learning how to recognise fraction equivalents of decimals. We played a matching game to see how many pairs we can recognise and collect.
Inspired by the Tour de Yorkshire
Our Y5 children have been writing their own Haiku poetry and Matthew was inspired by the Tour de Yorkshire.
Watch out Nick Parks!
Year 5 are busy creating clay models for their stop-go animation of Theseus and the Minotaur. Here are some of the stages and characters. Wonderful teamwork resulted in amazing attention to detail.
Stay and read
Year 5 classrooms were filled with a wonderful buzz on Tuesday as many parents joined us for a reading session at the end of the day. Firstly, top tips for reading at home were shared and the importance of questioning and clarifying were stressed. Adults then put their newly acquired skills into practice using the question stems in the planners.
Thank you to all who attended both the afternoon and the evening session. The reading buzz was quite remarkable!
STEM Bloodhound Project
"I would recommend this project to other children because they will learn lots and it is really fun racing cars." (Sophie)
"I really enjoyed the Bloodhound project. It helped me with teamwork, science DT and maths in one go." (Archie G)
"This project has inspired me to become an engineer." (Bradley)
"I think the Bloodhound project was lots and lots of fun and I wish I was in Year 4 so I could do it again next year." (Bella)
"The Bloodhound project was very interesting. I learned a lot! from just one project!" (Archie I)
"I would recommend this project to other children. It is a very intelligent idea." (Archie I)
" This project has made me want to be a scientist when I'm older." (Matthew)
"My favourite part of the project was the designing then making because I was able to draw my car then make it look like it, piece by piece." (Ashley)
STEM day 4
Race day!
All of year 5 assembled at the safety line in eager anticipation to watch their cars race. The army inserted the rockets to provide the thrust and the children provided the loud count down and cheers. But which team designed and built the fastest car?
STEM Day 3
Preparations are underway to make the car as fast as possible – sanding to make it streamlined and of course – the necessary go faster stripes!
Who will have designed the fastest car?
STEM Day 2
Maths in action
Science informed design today as Year 5 began to sketch their initial ideas for their rocket cars. That could only happen once they had accurately measured the dimensions for the 'no cut area'. Accurate measurement was paramount as too much body could create too much air resistance yet too small an area could compromise the structure.
Design Teams
Children then worked in pairs or groups of three to discuss and agree a final design – negotiation and compromise were key. The final design and all important measurements were then transferred onto the polystyrene body.
Next step – the build…
STEM
Preparations are under way to design and build the fastest rocket car. Y5 are working on the Bloodhound SSC project to combine, science, engineering and maths in the hope of producing the fastest rocket powered car.
In science, the children have investigated the effects of wind and water resistance looking for clues to help them design an aerodynamic car. There was water everywhere but the learning was fun!
Our maths has also improved as we have learnt how to calculate average speeds and write remainders as decimals.
Animation
We have started our animation topic. In our first lesson, we have to follow instructions to help us make a short firm called 'Eye popping'.
Practical perimeters
We put our measuring and calculation skills to good use in our maths lesson. We used measuring tapes to measure the length and width of giant rectangles which were marked out on the hall floor. We then calculated the perimeter. Team work was really important to check that we were measuring accurately and calculating correctly.
Ancient reading
5B read extracts from the ancient Greek poem – The Illiad. They then acted out the fearsome scenes to show their understanding.
Our next geography lesson
Here we are using custard and cardboard to learn how tectonic plates move on the mantle (the custard), how mountains are formed and why earthquakes happen.
Maths
A professional mathematician set us a problem. What is going with these colours? We just couldn't stop investigating.
Geography
Our topic in geography is called Angry Earth. We used an orange to learn about the earths crust.
Teach Me Tell Me
5B are investigating the properties of 3D shapes. We wrote What Am I? riddles on cards to describe the properties. Once completed, we used the cards to quiz each other. After this, we swapped cards and quizzed another partner.
Reading for a real purpose
5B spent an interesting afternoon looking at how much Driffield as changed over the years. First they looked at maps from 1890, 1950 and 2016. After this they looked at a variety of photographs before finally matching captions to photos. It was an extremely noisy and productive session. We will report on our findings soon so check back in a few weeks to read about what we discovered.
Geography
We are Geographers (Abbie actually wore a badge saying so). Here we are carrying out a traffic survey. This was our 5th and final five minute count of the day. All we need to do now is to graph all of our data to answer the question "How does the environment outside our school change over a day?"
Winter Reading and Maths
First of all we had to follow a set of instructions and measure out ingredients carefully. We actually created SNOW! With our snow, we made 3d shapes and listed their properties. Then the real snow arrived today.
Pizza making
After deconstructing a pizza, we carried out a sensory analysis. Some of us were very brave and wore a blind fold while testing. Then it was pizza making time!
It's Party Time!
Year 5 celebrated their party day on Thursday. The morning was spent in the classroom playing party games such as snowman drive and the chocolate game. The afternoon was spent in the hall playing musical chairs (with a twist), corners and pass the parcel. Y5 are now well and truly ready for the festive season. Merry Christmas to all!
Introducing the winners of the Y5 coding challenge!
Over the autumn term, Year 5 learnt how to use Flowall to write computer programs which would power a variety of on-screen situations. Lots of thinking and problem solving were required. At the end of the unit, Mr Gibson set a challenge for the children to show just how much they had learnt. There were prizes for two winners in each class and an overall year group prize for Tabitha who Mr Gibson felt had written the best program by far to control a Pelican crossing. Well done to all the winners and to all children – you have learnt so much. Many, many thanks to Mr Gibson for his expertise.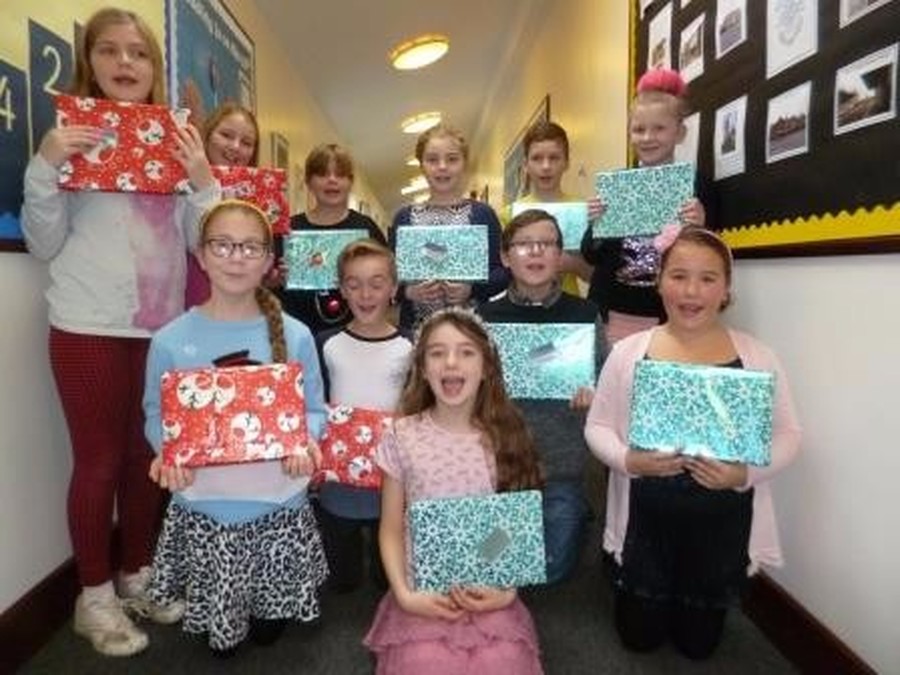 Shape
We have been learning all about shapes this week. We learnt about conventional shape markings with straws. Then we used the hall floor to help us practice our shape vocabulary.
Here we are learning about Ordnance Survey maps.
DT Topic
We have started our new DT topic this week, Pizzas! To find out what ingredients make up a pizza, we deconstructed one.
While learning about irreversible changes, we made these poppies. We used the poppies in the Year 5 Remembrance Assembly.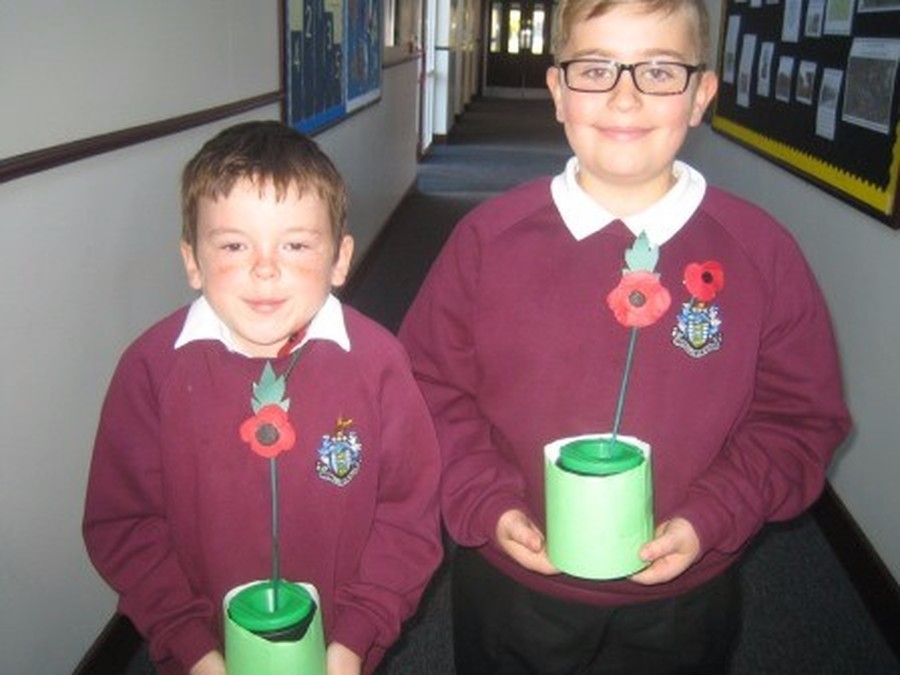 Separating Scientists
5B enjoyed separating a mixture of flour, pasta, paper clips and rice on Friday afternoon. They used their knowledge of the materials to decide which equipment to use to change a floury mess into tidy piles of separate solids.
Library Visit
On Tuesday 8th November, 5N visited the Driffield Library. The children learnt some interesting facts about the huge number of books which are loaned from libraries each year. They took part in a quiz and found out about the numbering system that libraries use to categorise their books.
If the children were not already members of the library, they had the opportunity to join and take a book home to read.
Fractions are a little tricky therefore we worked together to unstick ourselves.
Poppies
We used our science learning (irreversible changes) , maths skills (measuring), reading skills (following the recipe) for our Remembrance assembly preparations
Spooky Science
Y5 spent some of Halloween investigating the effects of mixing materials. They carefully read instructions and observed what happened when they mixed baking powder with vinegar. The pumpkins didn't look too happy.
Mapping
Pokémon Go has taken over Year 5. Instead of using a smart phone, we used actual maps to find the Pokemon. We found their location by plotting coordinates on a map then following the map to find each of the hidden Pokémon. Each Pokémon was telling us a fact which we then had to read and record.
In History we have been looking at lots of different monarchs. 5Ba have been researching why King John was one of the worst kings to sit on the English throne. He plotted against family (killing many members), stole money land and food from the peasants who lived in mud houses with their diseased animals and stole the land from churches! What an evil king.
Art
In art we are developing our pencil skills. We have learnt how to control our pencil and that by applying different weights we can create different tones. This is really important as we are aware that there are lots of different tones on the face so we want to be able to create this when we draw our own portraits. Keep a look out for these.
Scientists
On Friday morning we had lots of fun being a scientist .5B were investigating which solids dissolved in warm water. The best part was smelling them! We enjoyed science. Jack and Josiah
Computer Programmers of the future?
Year 5 have begun their programming curriculum. Mr Gibson, our IT technician and resident expert, gave them a whistle stop tour of BBC basic – Mrs Broadbent hasn't used this since her GCSE. 5B were amazing! They listened so carefully to grasp many new and challenging concepts before writing a program to make a zero drop from the top of the screen and then bounce back to the top. They were quite amazed when they watched a video of Pong – one of the earliest video games. Their programmes were very similar!
Feel the properties
5B began their science topic by sorting and grouping different objects according to their properties. They then went on to write some detailed explanations as to why certain objects were made from particular materials. Brilliant learning 5B!
Science using ICT
We have been reading all about science by using ICT. We hunted around the classroom for QR codes. Just like magic, the QR codes led us to some information about materials (our science topic). After we had read the information carefully, we had to complete a quiz. We learnt loads! Did you know that glass is made out of sand?
E Safety
Over the last couple of weeks, we have been reminding ourselves about how to keep safe online. Year 5 watched a film about Becky (you can see this on our E-safety page) and then wrote about her mistakes and what children need to do to keep themselves safe when using electronic devices. Caylem's advice is published below.
Becky loves the internet but she made some bad decisions which caused her to be in danger.
She put lots of pictures online. She didn't know anyone could see them. Remember anyone can see your pictures online unless you put on the privacy settings.
Keep your information to yourself like your name, where you live, your age and what school you go to. Also keep your phone number, passwords and e-mail address private.
Only play and talk to people you know online. Never meet anybody you have met online because they maybe someone else.
So remember, don't play with people you don't know or give away info online. If you follow this advice, you will stay safe online!
Finding our way to schoool
After virtually walking to school and plotting our route to school on Google Maps, we investigated our route using a variety of paper maps. Some of the maps were so huge, we had to move to the floor as the tables just weren't big enough.
Maths
5Ba have been learning all there is to know about place value this week. At the end of the week we decided to quiz our classmates with identifying different numbers from words. Some children have been partition numbers in the millions!
History
In History this term we are learning all about the great British Monarchs. To begin our learning we started by researching the first and current monarchs: Queen Elizabeth II and William the Conqueror. We began by writing our initial opinions and impressions of the monarchs and we will add to these at a later date when we have researched them some more.
Spellings
5B are busy learning the first six tricky words of the Y5/Y6 spellings. They use 'Teach Me Tell Me' to teach each other the words. They move around the classroom as mini experts testing each other on their words. Will says: "Spelling is not easy – but it's fun!"
Planners
5B were impressed with their new home learning planners. Joseph was quick to show his appreciation through the traffic light page!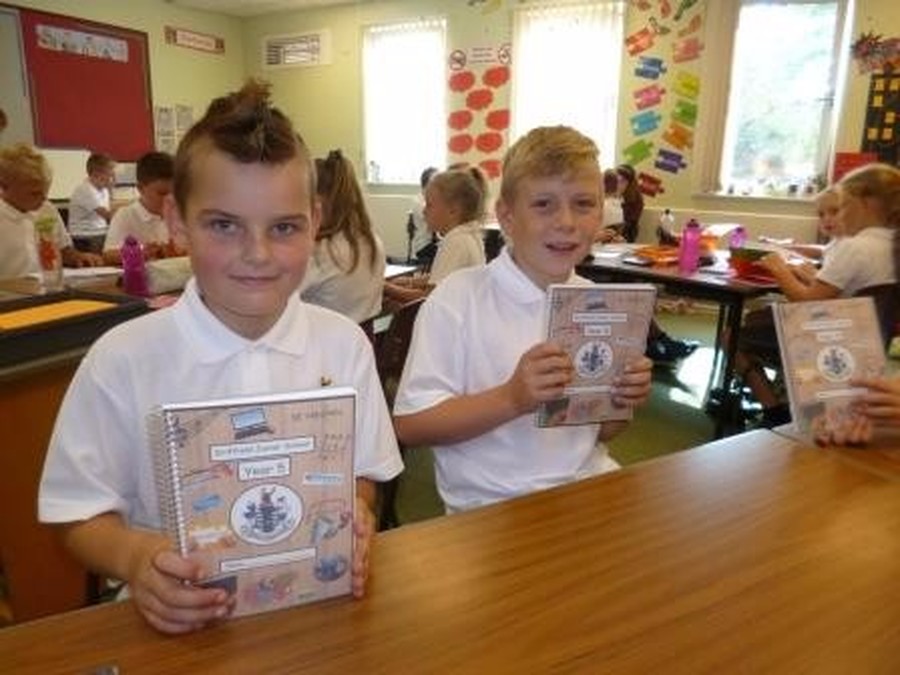 It's good to be back!
5B chose their reading books from the Upper School library today. Once they had read the blurb, they settled themselves down in the library for a good read.