Year 4
See what we did in Year 4 last year
RE
Year 4 was lucky enough to take part in a Sikh wedding workshop this week. They enjoyed learning about the Sikh culture including, dressing up, role playing the Sikh wedding ceremony, dancing and tasting Indian food.
In science this week 4T have been investigating how sound is made.
In RE year 4 have been looking at belonging to communities and the promises we make. As part of this topic the children have role played a Christian wedding. The children had great fun taking part in their own special day and enjoyed the amazing wedding cake very kindly made by a parent.
Maths
Year 4 have been exploring representing numbers in different ways.
This has really helped with our place value work and our first attempts at formal addition methods
In 4S we have celebrated the wedding of Freya and Preston. The children have thoroughly enjoyed being immersed in this topic. Their enthusiasm for today has really shone through.
These were the vows we used in our ceremony.
Vows written by Kyle.
I take you to be my wife,
Because I love you with all my life
I will love you everyday
I will look after our children
I will never leave you
We will have lots of holidays together
I will love you from this day forward
I will love you until death us do part.
Vows written by Oliver.
I take you to be my wife
To love you forever
And always be with you
And be by your side when needed
For you to be happy forever
And to be healthy.
Music
4S have now had their third drumming lesson with Mr Pymm and they are loving it!
Science
Today in 4S we have been looking at states of matter. As part of today's investigation we looked at whether or not the items on their table were a solid or a liquid. They did this by observing whether or not they poured and if they took on the shape of the container.
Geography
4S has enjoyed a great first week back at school! We have learned all about Australia, we have improved our map skills and produced some super aboriginal artwork. A highlight of the week was being able to email Mrs Gardham, who lives in Australia and used to teach at our school, to ask her some of our research questions. We were so lucky that she replied straight away! We then made a display of our answers and discoveries.
Y4 Camp
We had a brilliant time.
Year 4 ventured to the Viking city of Jorvik .
The children met Vikings face to face, and asked them some fantastic questions. They then travelled back in time to explore York in the time of Vikings, completes with sounds and smells.
They also experienced DIG, which allowed them to learn archaeological skills, and start thinking like historical. This involved digging up artefacts and piecing together the a picture of what life was like for Vikings living in York. They categorised finds, and learned lots about Viking's everyday life.
The children all showed excellent behaviour and manners throughout the trip, and were a credit to Driffield Junior School
Today in 4SM we have been creating freeze frames to help us write summaries of the story of Beowulf.
Swimming
Over the summer term Y4 have been swimming twice a week. The progress they are making with this important skill is absolutely fantastic, and the children are really enjoying it. As you can see, they are also returning to school with some very different hairstyles than they arrived with thanks to the water!
Beowulf
In 4SM we have been writing letters to King Hygelac to ask for his help to save Heorot from the evil Grendel.
Beowulf
4T have been busy reading the story of Beowulf recently. So far in the story, we have reached the point where Beowulf arrives in Denmark to volunteer to deal with the monster Grendel.
He was at this point surprised by meeting an interview panel! First the children had to plan a series of interview questions for the prospective monster hunter, thinking how to make questions open to encourage the candidate to talk about their skills and experience.
The children then formed an interview panel, with a fearsome King Hrothgar and put their questions to the test, giving each candidate feedback on their performance. The candidates had to think fast to respond to some excellent questioning such as: "What do you consider a monster?" and "Where did you learn your skills?"
At the end of the day, the preferred candidate was contacted: he starts his role as monster hunter of Denmark tomorrow morning!
Year 4 RE action
On Tuesday Year 4 took part RE Action built on the theme of Saints and Heroes. The children completed four different workshops. They reflected on the life and values of St Francis of Assisi, and how Franciscan monks remember his values through the wearing of three knots. Afterwards, the children completed a fantastic drumming workshop, discovering the meaning of the song "when the saints come marching in", and performing a complex arrangement. As always, drama played a big part, with the children re-enacting the life and adventures of St George. There were several familiar faces at the YEAST workshop, in which the children completed an interactive retelling of the story of David and Goliath.
The children were superbly behaved, and really impressed the group leaders with their engagement and enthusaim!
4SM – DT Musical Instruments.
Today as part of our sound topic 4SM have begun to make their own musical instrument.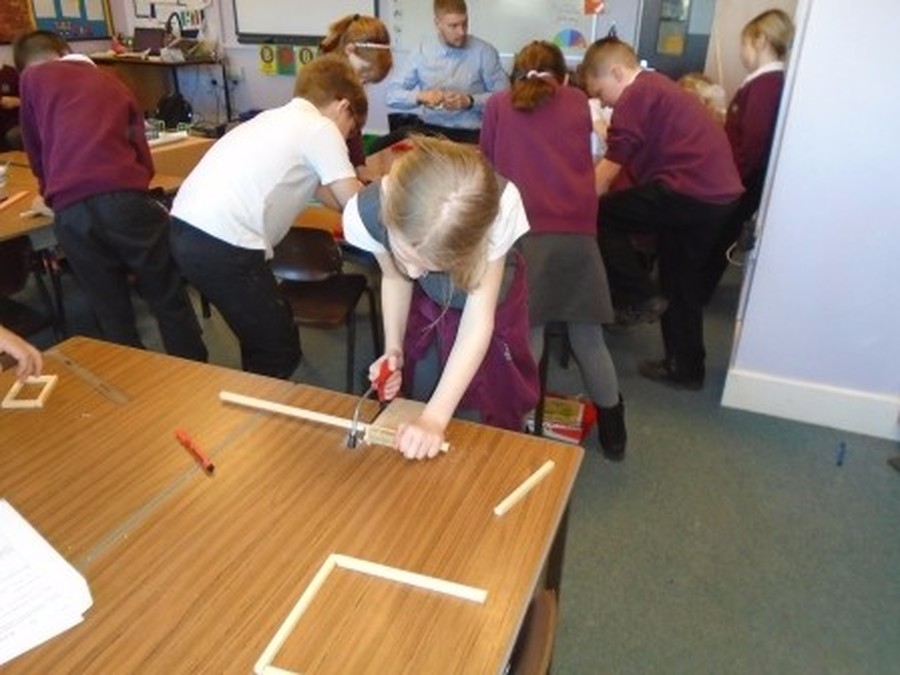 Safer Internet day 2017
During Safer internet day, 4T discussed all about online reputations. A big part of this activity saw the children discussing the first impression they got of a person based on a single photograph. This was then linked to how when a photograph gets shared, that the people seeing it might not know the story that goes with it.
In assembly, the whole of Lower School learned about safety when sharing photographs, discussing photograph ownership and how information can be shared unwittingly: a street name in the background, a school logo on a jumper and so forth. The children ended the day a lot more confident and secure in their understanding of how to be safe online.
We Will Rock You
After weeks of rehearsing, this week 4T got to finally put together a percussion performance of Queen's "We will rock you". The dexterity required to play multiple instrument types, perform in time as a whole class, sing and complete an air guitar solo at the finale shows just how hard they have been working, and how much progress they have been making!
Y4 North America Wow homework.
Last week Y4 took the opportunity to proudly display their Wow homework. The theme was North America, and the Year 4 staff have been blown away by the quality and variety of projects. Clay models of Mount Rushmore, Statues of Liberty, Empire State buildings made from Lego cardboard and gingerbread dominated the skyline. Some truly spectacular bridges- Golden Gate, Brooklyn and Manhattan spanned the gaps between displays, and working volcanoes provided an element of danger to the day! History was shown with Native American art and totem work, while topically the White House was well represented with some imperious models. An interactive guide to New York City, a cityscape crafted out of metal and a model of Route 66 all deserved attention as well. Some children took a different approach, and some novel and truly impressive research projects were undertaken. The range, depth and accuracy of these projects was absolutely stunning. Fantastic researching skills are clearly a theme in Year 4!
A huge thanks to all the children and parents who supported this project- be it helping with projects at home, or attending the exhibition on Wednesday.
Library Visit
January sees the turn of Year 4 to visit Driffield library. On Tuesday 4T learned about some of the history of Drififeld library, and how the library has grown over time. The children also took part in a quiz and discovered just how many books are borrowed around both England and the East Riding. The most important part of the visit however was all about the service the library offers. After having time to explore the fantastic range of book available, and have a good read, the children who were not members of the library were signed up, and some had their memberships updated. Then, once a book had been chosen, and the electronic signing out machine had been negotiated children headed back to school, clutching their newly borrowed library books.
Investigation
As part of our learning about digestion, 4T have this week looked at animal digestive systems. To do this, we needed to research animal diets around the world. We used a series of QR codes to visit world famous zoos from all around the planet, without leaving the comfort and warmth of our classroom!
Eggperiment.
4SM have been investigating the causes of tooth decay, looking at the types of drink we consume. They have placed an egg in a variety of different drinks including cola and orange juice. Stay posted for the results!
Teeth
This week we have been looking at our teeth in 4SM. We looked at the type of teeth we have and those of different animals and why our types of teeth differ.
Wedding bells!
4T have been learning all about weddings with Mrs Woodcock, and this week saw the big day finally arrive! The guests assembled, trumpeters played Mendelssohn and we caught sight of the bride and her bridesmaids. Then, the happy couple met in front of our vicar, and exchanged (Haribo) rings. The reception afterwards saw music provided by our very own guitarist! All in all, it was a fabulous wedding!
Reading
When Mrs Laird popped into 4SM the children were concentrating very hard in their guided reading session with Mrs Sash.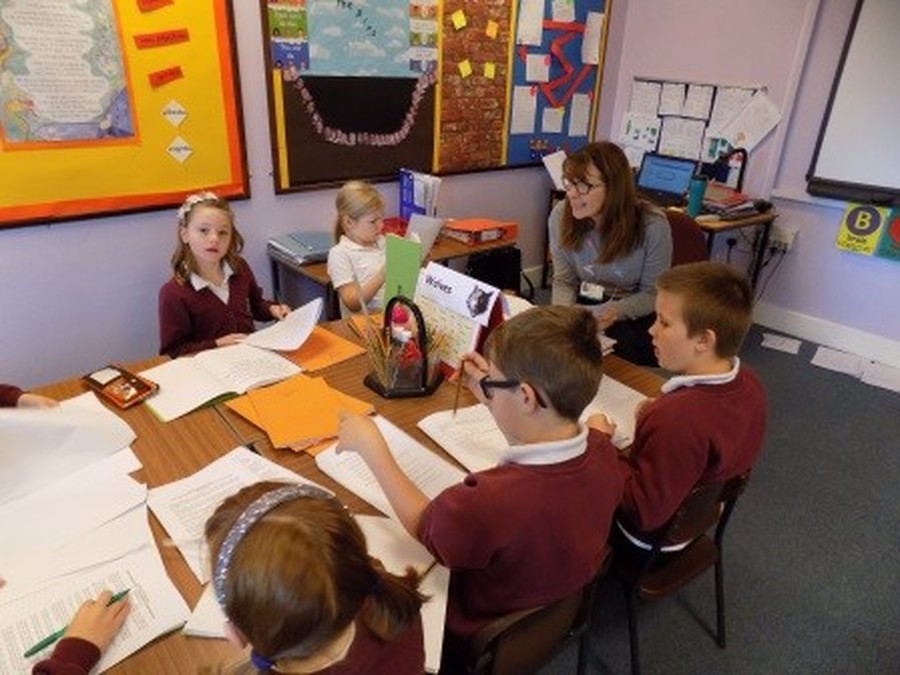 Angles
4T have had a very busy week learning about the different types of angles. While in the classroom we created compared and ordered a range of different sized angles. Even more excitingly, we bravely ventured into the cold to find angles around the school: while the goalposts where a great source of right angles, some fantastic work found some previously unspotted acute and obtuse angles! We even found some naturally occurring angles, and learned to see the school site from a whole new angle…
Local Geography
On Thursday, Year 4 took to the streets of Driffield. Their mission: to assess the geographical features of Driffield. Using maps they followed a route that they had planned themselves, and went from location to location, evaluating as they went.
Watch this space, as in the near future, we will be producing our own version of the Driffield town guide to build on our work!
A huge thanks to all the parent helpers who braved the rain and cold of a busy market day- trips like this could not happen without your time and help!
Poetry
This week 4D have been learning the poem The Magic Box by Kit Wright. During our sessions we have been working together in groups to create actions alongside the words.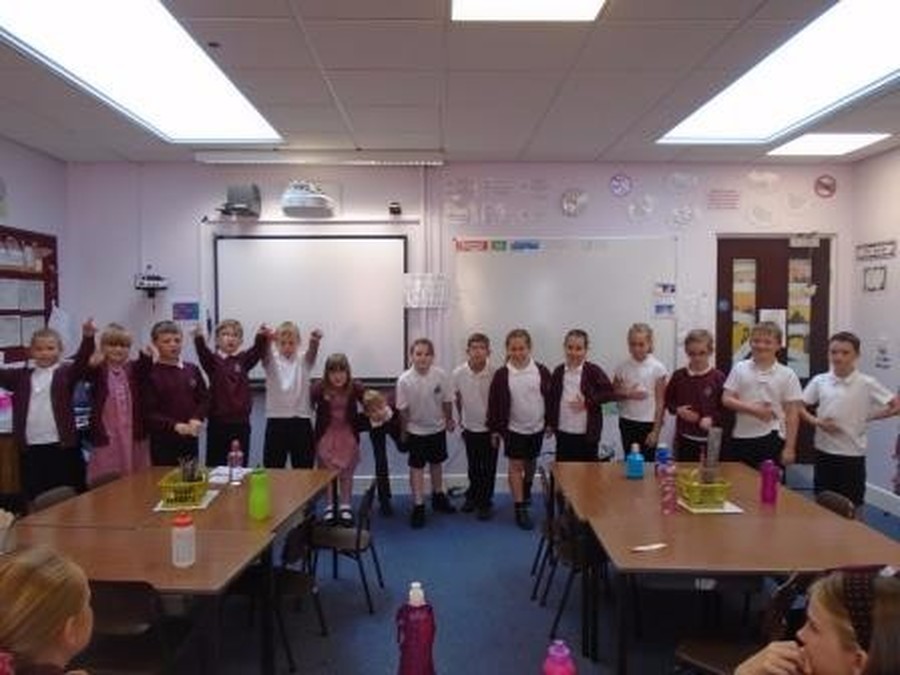 4T have been working collaboratively to create new poems. They worked in groups deciding what senses they would use to describe the contents of a "Magic Box". They helped each other to grow their ideas by developing them further.
Percussion Lessons
The children all across Y4 have the fantastic chance to take part in percussion lessons taught by musical specialists. So far the children have been exploring beat and rhythm, and have even started to add singing to the mix! Here are some pictures of 4T in action on Thursday.